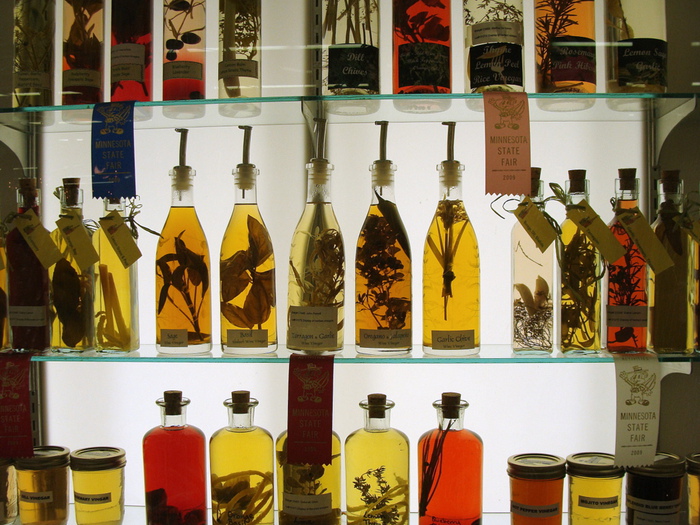 Such wonderful bottle of tasty and healthy oils can be done by rukami.Berem bottle, it is desirable that it was unusual formy.Butylochku rinse, dry, filled with spices.
Puts in her favorite spices and pryannosti (chili pepper in a pod, basil, tarragon, dill, fennel , pepper, peas, etc), all according to your taste.
Fill the bottle olive oil, cover and remove the 2 weeks in a dark cool place.
For two weeks spices have just start to give your taste, color and aroma oil, .Dekoriruem bottle tasty fragrant oil is ready.
Variations recipe flavored olive oil Greece
- In 500 ml of olive oil, you will need: 7 cloves of garlic, 5 black and 5 green whole olives with pits, a mixture of "Provencal herbs" - 2 teaspoons. Garlic should be clean and make it shallow incisions to enhance palatability of flavored oil. Olives, garlic seasoning and put it in a bottle and then fill it with oil. Hermetically sealed container must stand with the oil about 2-3 weeks, after which the oil can be used in food.
- For a more acute version of flavored olive oil 500ml 7-8 cloves of garlic chili add 2-3 and 1-2 teaspoons of grains of colored peppers. Fresh sprig of rosemary to make the smell just fascinating.
- For citrus olive oil 500 ml volume required coarsely chopped dried lemon peel small and medium-sized orange. Infused oil for a month, and then recommend to remove crusts.
- Extremely fragrant, exotic olive oil, which is then used for baking, sweets or frying pancakes can be prepared according to the following recipe. At half-liter volume of olive oil, add 2-3 cinnamon sticks and cloves 6 studs. This spicy oil is ready in a week.