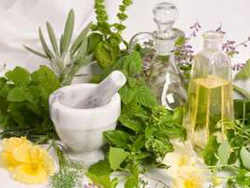 Cleansing lotion of lemon juice
With

approx lemon mix with boiled water and wipe the oily skin obtained lotion.
Lotion softens and purifies.
Recipes tonic for dry skin
100 grams of sour cream mixed with egg yolk, add the juice of half a lemon, and ¼ cup of vodka. Wipe clean with this skin tonic.
Keep refrigerated

.
F

eltok rub with lemon juice, then mix the resulting mixture with a tablespoon of vodka and half a cup of cream. Wipe this tonic withering skin.
Lotion for sensitive skin
In

a glass bottle, pour a teaspoon of green tea, add 2 drops of essential oil of tea tree or rose and close. Insist day, then pour a glass of boiling water and leave for 40-45 minutes again. Strain and wipe this lotion face in the morning and evening. Store in the refrigerator for 2-3 days.
Purifying Toner for all skin types
W

aleyte 0.5 liters of boiling water, one cup of washed stems and leaves mother and stepmother and nastaivate in a water bath for 30 minutes, then strain. This decoction wipe your face during the day and wash yourself to them in the morning and evening.It is very effective, but it can be stored for about 3 days.
Lotions for oily skin infused vodka
A

pelsin with the skins grate. The resulting slurry pour 0.5 cups of vodka. Infuse a week in a dark place. Then drain, squeeze and add 1 tsp glycerol. Daily wipe face this lotion.
Homemade lotion for aging skin
.
With

Collec cooking: 100 g washed aloe leaves soak 15 days in the refrigerator. Once again, wash the leaves, pour 1-2 liters of cold water and two hours of pushing. Then, put on the fire and boil 5 minutes after the water boils. Cool and strain. In a compress imposes on the face for 15 minutes three times per week. After the procedure, the skin moist grease
nourishing cream.
Herbal lotions for normal skin
With

uhie linden flowers and wild chamomile brewed as a tea (1 part to 10 parts of flowers of boiling water), insist 20 minutes, strain, cool.

Several times a day to wipe this infusion the face and neck.

This lotion is perfect skin tones.
D

For this recipe will require several medicinal herbs. Must be mixed in equal amounts linden flowers, chamomile flowers, petals or rose hips rose and peppermint leaf myty.Shredded plants pour boiling water in a ratio of 1: 2. After boiling, cool. Gauze soaked in the lotion, apply on face for 15-20 minutes, then rinse with warm water.
W

accidents as tea, dried lime flowers 1:10. Steep for 20 minutes, strain, cool. Wipe the skin three times a day.