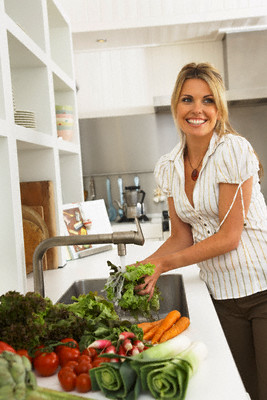 1.

If you happen to get your hands dirty with glue "Moment", then you can remove it by using margarine.

To do this, you need to smear a dirty place and wait a few minutes.
2. If you want to have in your apartment was a pleasant smell, boil for a few minutes in water and lemon peel.
3. To remove lime scale near the crane, to wipe this place warm vinegar.
4. To kitchen towels to wash well, they need to soak overnight in curdled.
5. In order to have a "do not run away" by boiling milk, smear the inside edge of the pan with oil or fat.
6. Vegetables during cooking should be put only in the boiling water.
7. To quickly beets cooked, it should be boiled for 20 minutes, then, drain and pour cold.
8. In order to have a good skin cleaned with new potatoes, before cleaning it to put in salted cold water.
9. Frying potatoes need salt at the end of the process.
10. To beans or peas quickly boiled, they should be at night soak in cold water.
11. To the potatoes fall apart when cooked, it should be boiled in salted water with a few drops of vinegar.
12.

To beet to lose their color when cooked, it should be boiled in water with sugar and apple cider vinegar.
13.

Properly cook vegetables:
a) the cover should be dark in color and shall adhere to the pan.
b) during cooking can not pierce the vegetables.
g) ready vegetables should be immediately removed from the broth.
etc.) when cooking vegetables to add to the water a little lemon juice.
14 . To make your bread longer preserved, next to him to put a piece of potato, apple and a little salt.
15. How to choose the honey:
a) the need to take a stick and try to cheat on her honey. If he does not Oiling, it means that honey is not true.
b) the need to mash the honey in the fingers. If after a while your fingers will no longer adhere to each other, it means that in the honey added sugar.
c) a drop of honey should not spread to the finger nails. TO BE CONTINUED.