Russian silver and enamel | Antikvarnaya utensils XIX century.
RUSSIAN PAINT!
These words conjure up fancy caskets, bowls, cups, mainly in gold and silver, a variety of jewelry, the surface of which is decorated with bright pattern: its brilliance, richness and brilliance of colors, clarity and transparency of tone argue with elaborately cut gemstones. Large decorative possibilities of enamel, and above all its persistent, never dimming paint, unaffected by light, air and time, preserving many years original freshness and transparency, have long attracted the attention of both artists and customers-customers.
Enamel, or as it is for many years, until the XIX century was called, enamel, known by the ancient Rus, it turned jewelers subsequent centuries, and it is widely used by masters of contemporary arts and crafts.
Depending on the time and development styles, as well as from the production site enamel was then subordinated to the general decor, flattering precious stones or metals, it was the main decoration of objects of applied art, but always struck rich colors and exquisite patterns.
French porcelain cups 18-19 age
Basically it Sevres cup of Victoria and Albert Museum. The paintings on nekotoryh- real story miniatures, small paintings.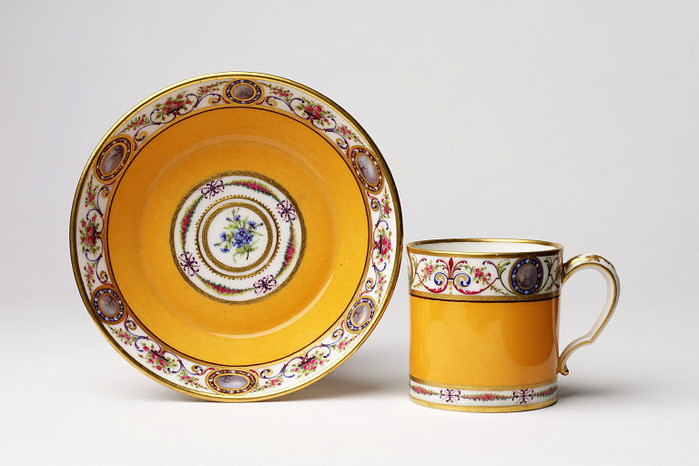 Tasse, gobelet litron, 2nd sizeObject: CupPlace of origin: France (made) Date: 1786 (made) Artist / Maker: Sèvres porcelain factory (manufacturer)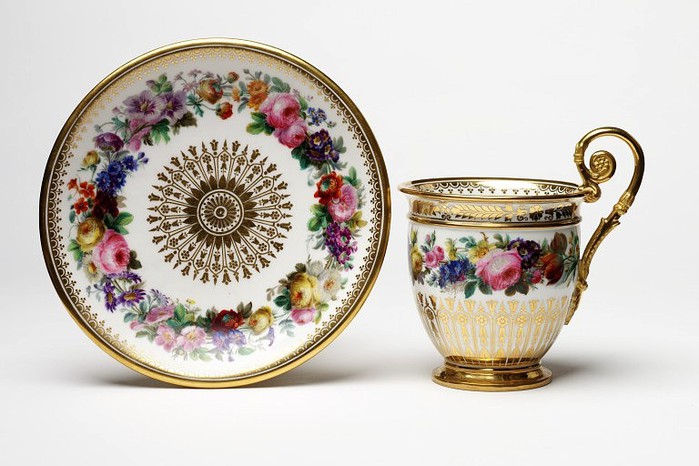 Tasse 'AB'Object: CupPlace of origin: France (made) Date: 1828 (made) 1836 (decorated) Artist / Maker: Sèvres porcelain factory (manufacturer)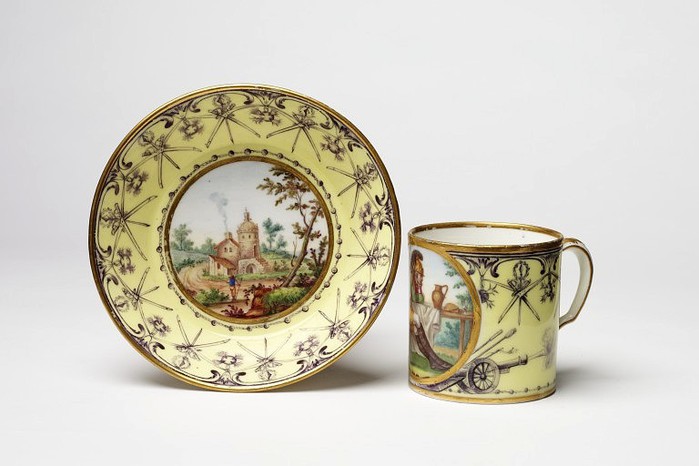 Tasse gobelet litronObject: CupPlace of origin: France (made) Date: 1787 (made) Artist / Maker: Sèvres porcelain factory (manufacturer)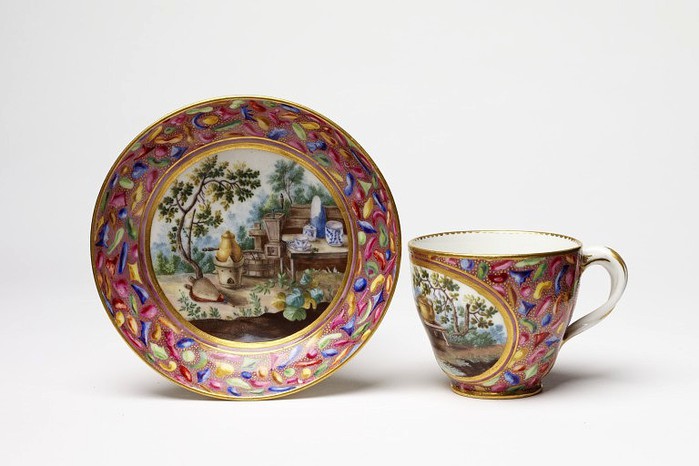 Tasse Gobelet HebertObject: Cup and saucerPlace of origin: Sèvres (made) Date: 1766 (made) Artist / Maker: Sèvres porcelain factory (manufacturer) Vielliard, André-Vincent (père) (painter)
Tasse gobelet couvertObject: CupPlace of origin: France (made) Date: 1763 (made) Artist / Maker: Sèvres porcelain factory (manufacturer)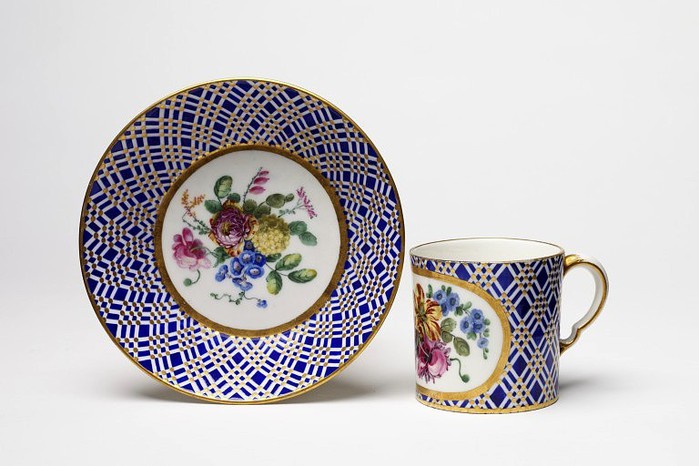 Tasse gobelet litron, 2nd sizeObject: CupPlace of origin: France (made) Date: 1768 (made)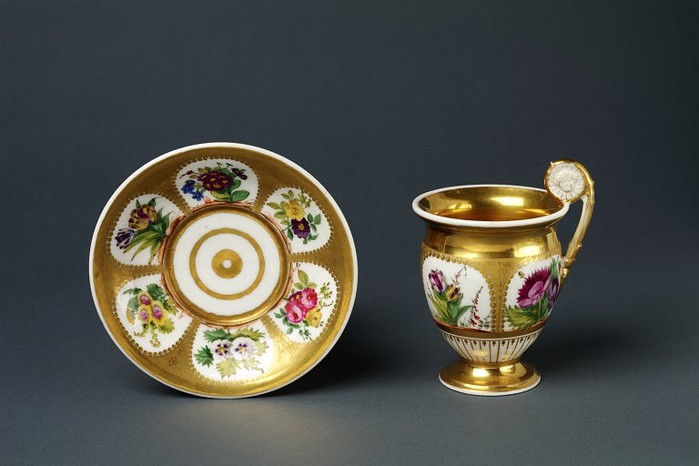 Cup and saucerPlace of origin: Paris (made) Date: ca. 1820 (made) Artist / Maker: UnknownMaterials and Techniques: Hard-paste porcelain, with gilt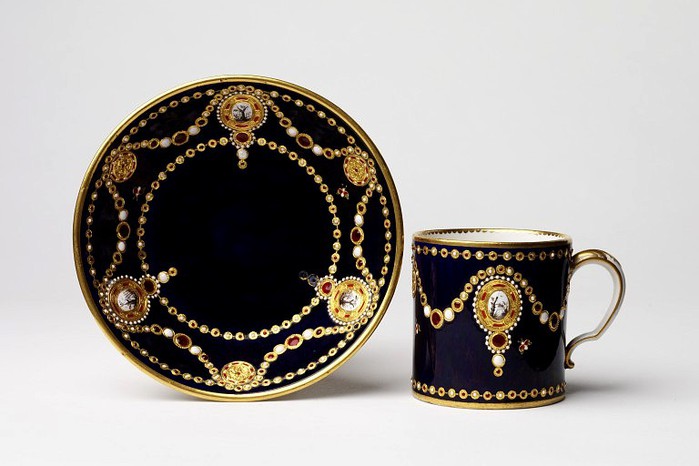 Tasse gobelet litron, 2nd sizeObject: Cup and saucerPlace of origin: France (made) Date: ca. 1781 (made) Artist / Maker: Sèvres porcelain factory (manufacturer)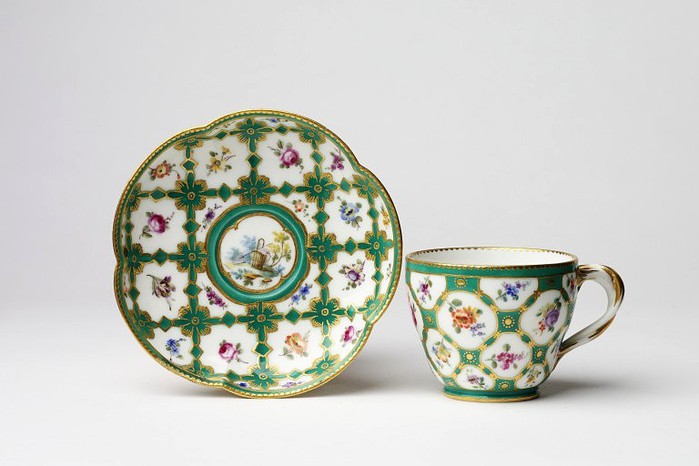 Tasse, gobelet Hebert, 2nd sizeObject: CupPlace of origin: France (made) Date: ca. 1757 (made) Artist / Maker: Sèvres porcelain factory (manufacturer)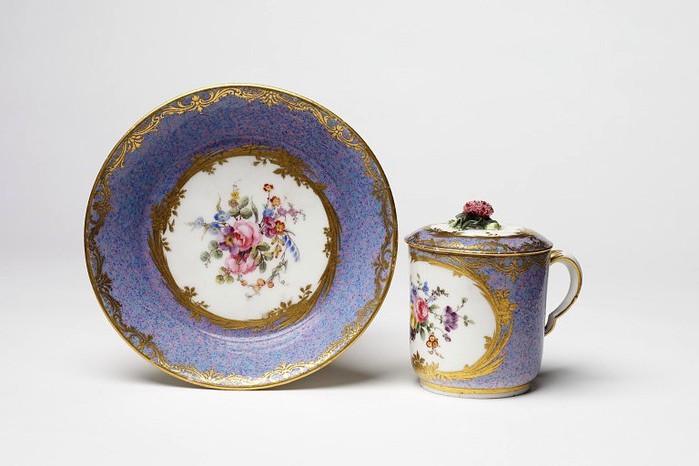 Tasse gobelet couvert Object: Cup and coverPlace of origin: France (made) Date: 19th century (decorated) Artist / Maker: Sèvres porcelain factory (manufacturer)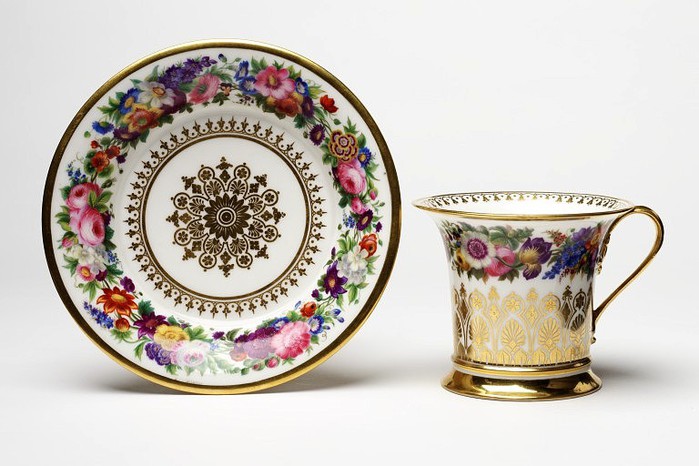 Cup and saucerPlace of origin: France (made) Date: 1834 (made) 1836 (decorated) Artist / Maker: Sèvres porcelain factory (manufacturer) Materials and Techniques: Hard-paste porcelain, painted in enamels and gilt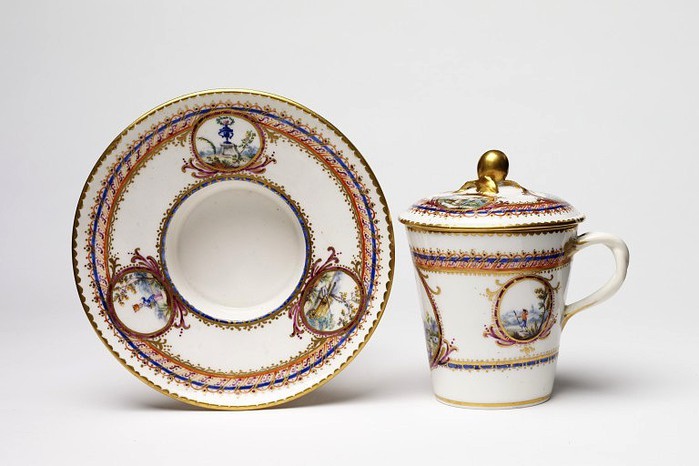 Tasse enfonceeObject: Cup and coverPlace of origin: France (made) Date: 1784 (made) Artist / Maker: Sèvres porcelain factory (manufacturer)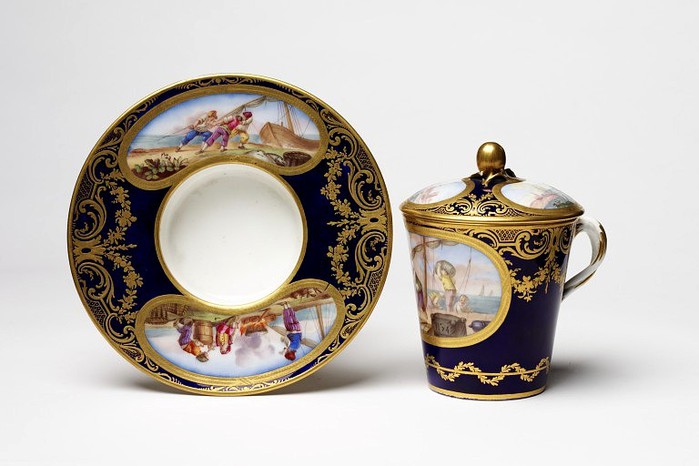 Tasse enfonceeObject: Cup and coverPlace of origin: France (made) Date: 1777 (made) Artist / Maker: Sèvres porcelain factory (manufacturer) Materials and Techniques: Soft-paste porcelain, painted in enamels and gilt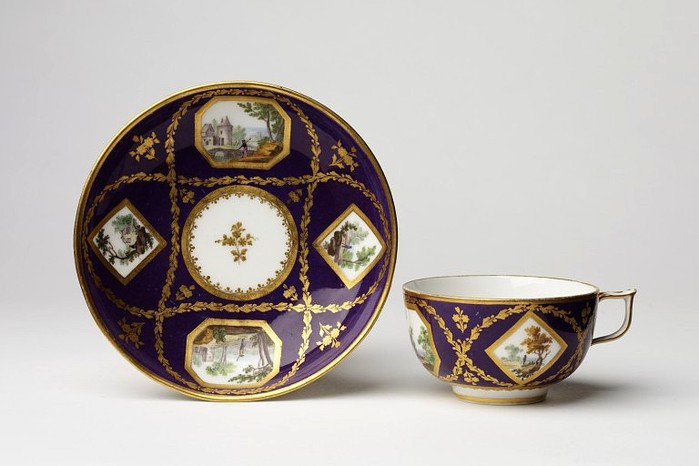 Tasse a l'anglaisObject: CupPlace of origin: France (made) Date: 1765 (made)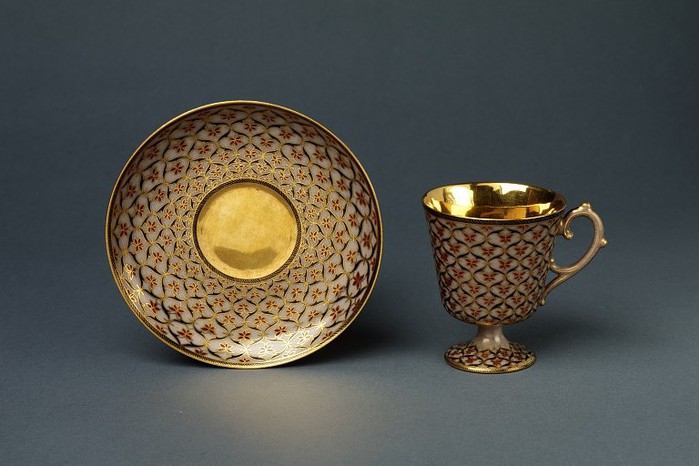 Cup and saucer Place of origin: Paris (made) Date: ca. 1878 (made) Artist / Maker: R. and L. Cellière porcelain factory (manufacturer)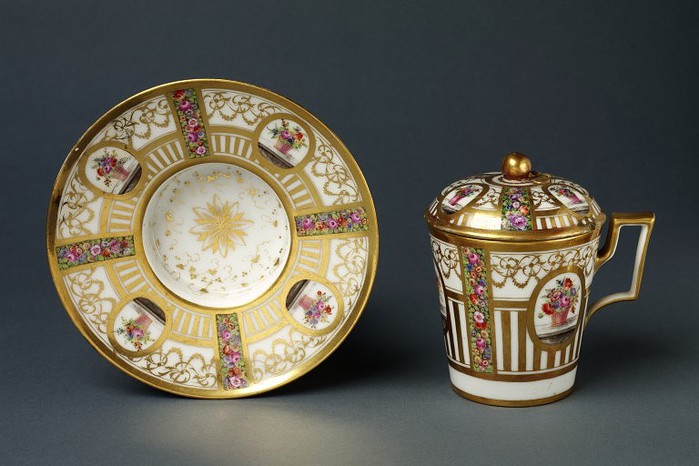 Covered cup and trembleuse saucerPlace of origin: Paris (made) Date: 1775-1800 (made) Artist / Maker: rue de Petit Carousel workshop (decorating firm) Materials and Techniques: Hard-paste porcelain, painted in enamels and gilt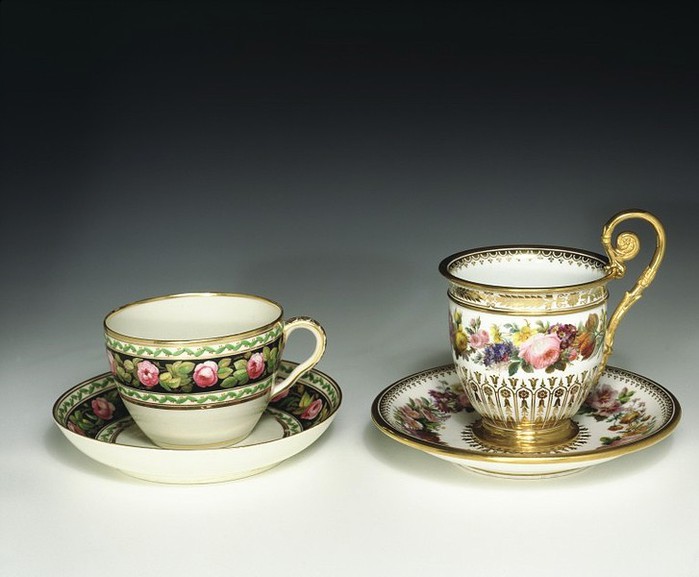 Tasse 'AB'Object: CupPlace of origin: France (made) Date: 1828 (made)
ANTIQUE-STYLE DISHES PIETRA DURA